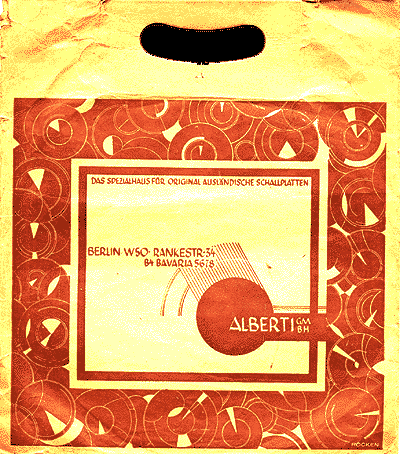 "ALBERTI"

The Specialized House For Original Foreign Records
(destroyed in 1943)
MUSIC STORE, EDITION "ALROBI", RECORD SHOP
Speciality:
Licensed pressings of "COLUMBIA" records
own "Black Label&quot - production (SPECIAL RECORD)
if succesful taken over by "ELECTROLA&quot
Importation of records
For the importation of a record, the client had to pay an extra import tax of RM 1,- so that the price jumped up from RM 2,50 to RM 3,50.

As there were copyright problems with "DEUTSCHE GRAMMOPHON" who bought the logo of "HIS MASTER'S VOICE" in the early after war years from 1918, "ELECTROLA" as the German label of "HIS MASTER'S VOICE" was not allowed to show the original sign (The dog Nipper in front of a gramophone). In the other way, "DEUTSCHE GRAMMOPHON" had to use another name for exportation ("POLYDOR") and could not use the dog's logo...


For the importation of British "HMV" or American "VICTOR" records, "ALBERTI" had to hide the trade mark by stamps.