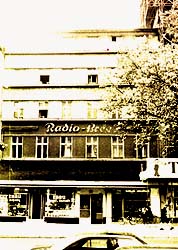 "RADIO BRÉE" at Berlin´s Sports Palais in Potsdamer Straße used to be a very popular shop. Because of its address, many people just walking by got in and became new clients:

Every day, masses of people used to stream to all different kinds of events in the huge hall to see boxing champion MAX SCHMELING perform or to be part of the legendary 6 - days - race (a 24 h biking event where the band of OTTO KERMBACH and "KRÜCKE", a "Berlin´s Original" were the attractions during the performance of "WIENER PRATERLEBEN", that later on was named "SPORTPALAST - WALTZ"). After World War II, ELLA FITZGERALD gave her first concert in 1948 at SPORTPALAST). During the war, there used to be political (un-)happenings like in 1943, renowned Dr. Joseph Goebbels' speach with the extatic screaming: "Do you want Total War?".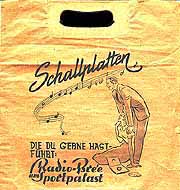 Today, while looking for 78's records, it can happen that all over sudden there is an amount of records in old "RADIO BRÉE" sleeves and shopping bags. Normally, they only contain the bestsellers of "WIENER BOHÈME ORCHESTER" or very popular Light Opera singer "HERBERT ERNST GROH". In rare cases, those sleeves show some SWING MUSIC by "ARTIE SHAW" and "DIE GOLDENE SIEBEN"...
Until the Berlin Sports Palais was torn down in 1975, the "RADIO BRÉE" record, TV and radio store continued working. In 1976, due to the missing crowd walking by, the shop was bankrott. In our days, at the place of the old store, there is import / export shop wuth kitschy things like Madonnas in plastic... Only in Potsdamer Straße, on the dirty gray of the fassade, there is still the shadow visable: "RADIO BRÉE"

During decades, the slogan was:

"SCHALLPLATTEN, DIE DU GERNE HAST, FÜHRT RADIO BRÉE AM SPORTPALAST"
"RECORDS THAT YOU REALLY ENJOY - BY RADIO BRÉE AT SPORTS PALAIS"
BACK TO THE BEGINNING: "WHERE TO BUY RECORDS"