"HOW AND WHERE TO BUY RECORDS?"

A very important question that kept busy the mind of some Swingfan: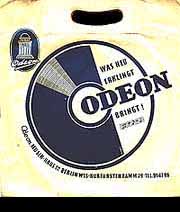 Of corse, the - let us call him "Swingin' Dude" - wanted to find not only a special and friendly service but also very special records. Best was AMERICAN HOT JAZZ on German pressings, due to the high quality of material (shellac) what made those editions sound louder and gave them more bass (very important for the rhythm section of a recording!):
All collectors know them, those legendary "SWING SERIES" by "ODEON", "IMPERIAL", "ELECTROLA", "COLUMBIA"...
To buy those, our "Swingin' Dude" could go to a specialized store and chose some tunes from a catalog a nice and charming young lady showed him. After knowing what new records appeared that month, he went into a cabin to listen to some records. Normally, there was a very luxurious electrical turntable and a "High Fidelity" amplifier.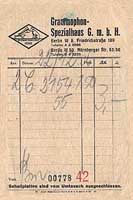 Those were never sold and had a stamp on the lable, telling "test record - not for sale". After - maybe hours of - listening and chosing, he went to the nice and charming young lady again, asked for maybe one or two records of the whole amount he has been listening to (10 records, 15 records, 20, 30...). After paying RM 2,50 each (standard price for a normal 10" record, what was a lot of money then), the nice and charming young lady took two non-sleeved records from a huge sideboard. After controlling by view if there was any mistake in the pressing, she fit them into brown paper sleeves. Then she put them into a shopping bag (made of paper with a nice printed commercial on it). And after this whole procedure, she handled the bag with the new tresuries to our "Swingin' Dude" client who - lucky as a king - left the record store for heading home to listen to the new music over and over again...

What a glorious feeling it must have been to walk down Kurfürstendamm with the paper bag of a record store. After spending an afternoon in a record store listening to JAZZ you had to make your choice. And then - finally - you got your new record of SWING MUSIC such as FATS WALLER, FUD CANDRIX, JOOST or BAUSCHKE, STAUFFER, JAMES KOK and COUNT BASIE or even a BENNY GOODMAN...

You get an idea of this procedure in the German sound movie "EIN FALSCHER FÜNFZIGER" ("A Wrong Fifties Bill"). The actress LUCIE ENGLISCH plays one nice and charming young lady in an ELECTROLA-record store.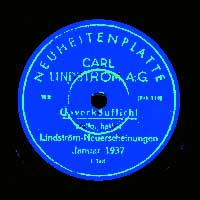 The labels "ODEON / PARLOPHON / GLORIA&quot give an idea of this in their monthly "NEUIGKEITENPLATTEN" ("News") - records. They were sent as information to shopholders in the thirties who ordered a stock at the company.

Here you can listen to an example from May 1936 (mp3 685 kb).
These shopping bags - unfortunally - have never been of a big interest for collectors. It is wrong to ignore this luxurious little extra plus in its nice design. They represent a certain style and way of life that got lost in our days...
BACK TO THE BEGINNING: "WHERE TO BUY RECORDS"