COLUMBIA SUPER SWING MUSIC : Summer 1936 - February 1937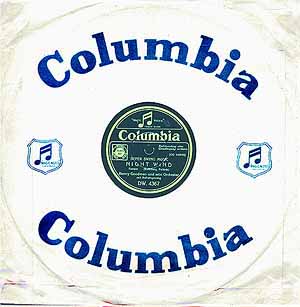 During the Olympic summer 1936, "COLUMBIA" did like her big sister "ELECTOLA"): The label showed an own SWING - SERIES. This very small edition was reduced to only seven records. Four of those had added a "SUPER SWING MUSIC" on the label, the other three were called only "SWING MUSIC" - like "ELECTROLA" did.

Most of the recordings were taken from quite new American masters that for the first time appeared in Germany. The only elder recording was made by RED NICHOLLS in 1927. The tune "Someday Sweetheart" became very popular again, dressed up in new arrangements by Swing Bands. This could be the reason why German "COLUMBIA" decided to use an "original"..

Only three tunes made by the Band of WILLIE LEWIS were recorded in Paris. They stand for the European exception of this series. As this band was founded by the black pianist WILLIE LEWIS, it fit into the edition.



You can read the whole article in FOX auf 78 magazine, No. 19, spring 2000.
Article and Discographies of "COLUMBIA SUPER SWING - MUSIC" by clicking on the "CULUMBIA" - sleeve.