ODEON SWING MUSIC SERIES : 1938 / 1939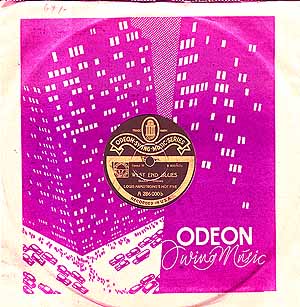 In 1938, "ODEON" appeared with an anthology of Jazz Music that showed anglo - american Hot - und Sweet recordings from "OKEH" and "PARLOPHONE" masters produced during the years from 1927 - 1935. A single exception is the number A 286.070 by British BERT FIRMAN´s Band. It was made in 1937 with a string group. The planning was a series for exportation that was not listed in the main catalog. After a short while, "ODEON" proposed special typewritten lists by that interested clients could order a record by advanced cash. After delivery, the tunes were not allowed to be played in public, even not in the record store.

Fans of HOT JAZZ MUSIC liked this series a lot. It showed the development from Black Jazz, Stomp and Blues of LUIS RUSSEL, JOE VENUTI, BIX BEIDERBECKE, LOUIS ARMSTRONG, EMMET MILLER, DUKE ELLINGTON, MAMIE SMITH and others, up to early SWING by the bands of GENE KRUPA, COLEMAN HAWKINS and FRANKIE TRUMBAUER.

German "ODEON SWING MUSIC SERIES" is identic with parts of british "PARLOPHONE FIRST NEW RHYTHM STYLE SERIES" and some recordings appearing in "PARLOPHONE SECOND NEW RHYTHM STYLE SERIES". With the recent modern masters, it reaches some recordings of "PARLOPHONE 1934 RHYTHM STYLE SERIES". With the beginning of World War II, the editing was stopped at number A 286.092.

Continuing the tradition of Jazz by "ODEON" label, during the war a new kind of series appeared. On normal dark blue label, in the A 272.000 - Series, a lot of Jazz recordings were sold in forein´gn countries. It was not easy to get them in Germany as there were no catalogs. The same masters appeared on "PARLOPHONE" - exportation - pressings with the original British catalog numbers (R. 100 - R. 2725). These series never reached the quality of the old "ODEON - SWING - MUSIC - SERIES": They were DUBBINGS from records Umschnitt - Matrizen due to copyright problems.
"ODEON - SWING - MUSIC - SERIES" DISCOGRAPHIES BY CLICKING ON THE "ODEON" SLEEVE.
BACK TO "GERMAN SWING - SERIES"