DANCEABLE RECORDINGS / CD - SERIES
"SWING FOR DANCERS" and "BALBOA SWING"
DJ WUTHE presents: @mail: wuthe@swingtime.de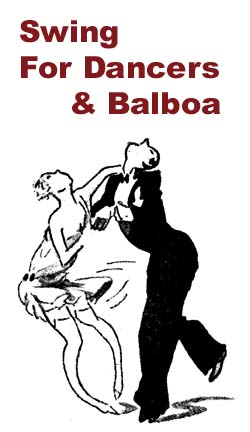 · BALBOA (catalogue)

· SWING FOR DANCERS (catalogue)

· RHYTHM & BLUES (catalogue)


Danceable Swing Music with indicated Tempo (bars per minute):
Not only "to use for dancing", but also lovely to listen to. A medley through the decades and Hit tunes of Swing Music.

In cooperation with Eveline und Philippe Causse the "BALBOA SWING" CDs were developped: as good to dance to as good to enjoy just by listening. BALBOA is a certain style to dance to fast Swing Music. Invented in California at the Balboa Island Casino in the beginning of the 1930s, a most popular revival of this dance is born: Here in Berlin Evi und Philippe are the parents of the Balboa revival, so is is a great honour to work together with these fantastic dancers.

In cooperation with Swing enthusiast and teacher Birgit Schaarschmidt in Frankfurt / Main the "SWING FOR DANCERS" series was born: Right now we proudly present our first 2 compilations:
SLOW SWING FOR DANCERS is a medley of slow but dynamic Dance tunes, not only for beginners.
SWING FOR DANCERS - MEDIUM TEMPO climbs up to well danceable LINDY HOP tempo.

Besides a quicklist indicating tracks, performer and dancing tempo, on the inside of the inlay cards there is the complete discographical information about every track. By this the series become a real "Collector´s Item".
We present the historical recordings from the original shellac (Victrola) records in an authentic noise-reduced sound:

Due to patience and lots of handwork, sidenoises and scratches are eliminated and the result is an unspoiled natural sound of the music.

The EDITION ANTIKBÜRO, is teaming with many collectors who open their archives for us and offer possibilities to reach never published recordings, documents and photos.

Booklets´ liner notes in ENGLISH and GERMAN.

After clicking on the CD covers on this homepage, you reach detailed information to each project, some mp3 files to listen to fragmented examples of the music. So you will be able to get an idea of what we offer to you.

Normally, the CDs should be found in leading musical stores and record shops. Some specialized stores like GRAMMOPHON SALON SCHUMACHER in Berlin will present you the whole catalogue.
You also can post a shipping order in direct through mail, fax and internet:

ANTIKBÜRO BERLIN
Weimarer Straße 33
D-10625 Berlin
fax: +49 (30) 31 80 74 18



available also through BOB´S MUSIC, online store in Hamburg, Germany

RESELLERS-REBATE by request, please address your wishes to Mr. WOLFGANG SAHLER, @mail: info@antikbuero.de