WHAT MEANS : "RECORD ENTERTAINER" ?
Nowadays we say "DJ"... - a curriculm in arts, music, design ...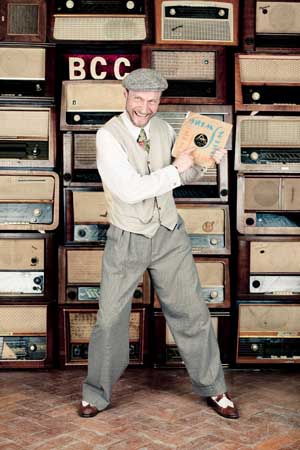 born in Berlin, summer 1966
At the age of ten years, I already called the Berlin fleamarkets my home: Looking for 78´s record, photos, movie cards and old catalogs related to SWING and BALLROOM DANCING in Berlin. I founded my collection of documents from the 20s to early after war 25 years ago, in the meantime, it became an archive...

My parents supported this strange teenage - hobby and took me to cinama for watching old black and white movies: I was attracted by the music, the decoration, the costumes and behaviour of good address I saw in the movies. In the late 40s, my father Karlheinz Wuthe, playing violin and slapbass, founded a small Dance Band called "THE PENGUINS". He became "CHARLY PENGUIN") and managed the Band playing in Berlin's renowned places of these years: "CAFÉ RÜDESHEIM", "RESI" - Ballroom and some JAMSESSION at Charlottenburg's "DELPHI" that became a cinema later.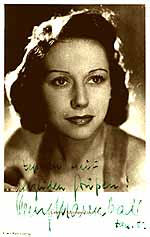 As many kids of my generation, the first instrument to get in contact with was the wooden FLUTE, followed by CELLO a few years later. Finally, I started playing CLARINET and SAXOPHONE that I never quit, but let become fewer for having the time to practice active BALLROOM, SALSA and SWING DANCING. I felt that I would never reach the qualities of a TEDDY KLEINDIN, BENNY GOODMAN or ARTIE SHAW...

The intense friendship to the Swing musician FRANZ TEDDY KLEINDIN whos records are something very special in German Swing and Dance Music, always gives me a lot of motivation to listen to SAX SOLOS, analyse and research information about SWING...

Each time we meet, all the facts and stories TEDDY KLEINDIN tells by his memory, make the SWING AGE something realistic. It is fantastic to talk to this great clarinet musician and bandleader who builds a way of understanding a period that seems gone and becomes realistic all over sudden. TEDDY KLEINDIN helped adjusting history and discographies: Many unclear facts about the German Jazz History and researches got cleared by his identifications of musicians, just by listening to old records and looking at photos of the bands. As he was one of the most asked soloists at his time, all famous Berlin Swingband made recordings with him.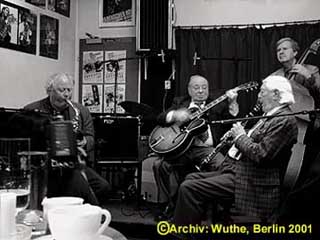 The big SENSATION: JAMSESSION in Berlin on December, 2nd 2001: "St. Louis Blues".
TEDDY KLEINDIN (cl), EMIL MANGELSDORFF (as) und COCO SCHUMANN (g).
At the age of 19, I moved to Paris, France, to start some design and fashion studies at renowned "ESMOD" school. After two years of getting an idea about the fashion scene, I found out that this was not really my world...

The superficial and chaotic way of working with many people who acted in a hypocritical and superficial way did not fit to my "Prussian mentality"...

After these experiences, I moved back to Berlin - being able to defend myself even in French language now - for giving a chance to my very first idea of a professional life: I had the chance to enter Berlin's "DEUTSCHE OPER" studio for becoming a sculptor in theatre decoration. After my exams, I continued working as a sculptor in Leipzig's Opera for one year. Due to the toxic plastic materials like polyester, styrofoam and polyvinyl chloride, I had to stop my beloved work for health reasons.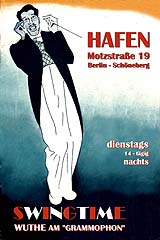 While thinking over what to do afterwards, in early 1995, I got the chance to present my Swing Music collection in a very nice Schöneberg Night Club called "HAFEN". My friends who work there as bartenders, asked me to play my old 78´s records every other tuesday. So I to became a veritable DJ. After the first nights, a big success appeared... A few years before the so called "SWING REVIVAL" took place in Germany, in this bar, we founded a SWING MUSIC COMMUNITY that likes the ambiance and joy of music. We envolved specialized skills of taste - always while looking for background information and good spirit. "HAFEN" still is my prefered place for DJ ing. These lovely people stand for the fidelity and continuousness that I prefer. Many other (un- )organizers of parties just miss those.

In 1998, I started my studies as a screendesigner at Berlin's "CIMDATA" school. My schoolmate and copartner DIRK THORMANN and me gathered a CD Rom . Our diploma gives a bridging from Berlin's "GOLDEN TWENTIES" - Ballroom over the "DIRTY THIRTIES" - Swing Music to the restart in "EARLY AFTER WAR" era and the "REVIVAL" in our days.

Performing as a DJ got more infrequent now. As I take my work as a sound engineer very serious, there is not much time left for the night life. The only regular performance used to be in "HAFEN". My experiences made by all possible kinds of events help a lot for developping a certain challenge. There were places like DANCING SCHOOLS, NIGHTCLUBS like "Delicious Donuts" and "Silberstein", the "ESTREL HOTEL", a CABARET called "Lützower Lampe", parties at Berlin's Art University HdK and "tRÄNENpALAST", the famous SWING MUSIC NIGHTS at "GRÜNER SALON" and "BASTARD@PRATER". During these events, I very often had the chance to work with performing Dance Bands such as one of the best orchestras in our days : The Swing Dance Orchestra of ANDREJ HERMLIN that I admire a lot.

The exchange of ideas, records and experiences with other collectors and scientists, esp. Dr. GERD AHLERS, STEFAN STREIF and the late HORST H. LANGE in Berlin, MARKO PAYSAN and CARLO SCHÖNEIS in Hannover, KLAUS STEMMLER in Hamburg, WOLFGANG MUTH, a very good friend from Rathmannsdorf who is gone in winter 2003, the late EBERHARD GANSCHOW in Wuppertal, and the close contacts to artists and performers of early "SOUND MOVIE" - era, such as the actress LENY MARENBACH, the dancer MARGIT SYMO, musicians like TEDDY KLEINDIN and his cousin, t he singer HENRIETTE SCHÄFFLER with her husband, the fantastic Boogie Woogie pianist PRIMO ANGELI who died in november 2003 at the age of 97, permitted some very interesting interviews.

My primary motivation to work with this almost forgotten music, lifestyle and culture is to preserve and give life to Berlin's traditions in the past (and future).

The repertoir of my collection goes from CHARLESTON and TANGO of the 20s, over SWING, RUMBAS and WALTZES of the 30s, up to MAMBO, BOOGIE and ROCK ´N ROLL of the early 50s. I try to cover a huge part of 20th century's typical dance music.

Since 1990 I made several publications and legwork for releases of research, discographies and music :
since 1999 working as a sound engineer (remastering and editing of old 78 records) for CD projects : Dance Music Series, discographies, individual orchestras, movie soundtracks, musical performers and singing actors
HORST H. LANGE: "Die Deutsche 78er Discographie... " (3. Auflage) Panther - Verlag, Berlin
"FOX AUF 78" (collector's magazine), issuer: Dr. KLAUS KRÜGER, Munich
Article concerning JAZZ UNDER NAZI REGIME ("JÜDISCHE ALLGEMEINE", "NRZ" 1990)
CDs for "DEUTSCHE MODERNE TONKUNST", "KOCH INTERNATIONAL", "DUOPHON", "POLYGRAM", "MAZUR MEDIA / HDN", "PUMPKIN PIE RECORDS"
since 2003 : Corportation ANTIKBÜRO - see CD-Series
Several Articles, interviews and portraits on Radio and TV shows